Getting Creative with Your Floral Budget
Hi, glad you are here. So I'm writing about floral budgets and the best way to get the most from your budget.
According to The Knot the average floral budget in Minnesota is about $2,400.00, this covers an average wedding party: bridal bouquet, 4 bridesmaid bouquets, groom's bout, 4 groomsmen, 2 ushers, fathers, mothers, grandparents and 14-18 tables for an average of 145 guests. So when you've got a smaller budget or a bigger wedding party and guest list, where and how is the best way to use flowers at your wedding.
First off repurpose as much as you can, starting with the wedding party bouquets (spend as much as you can, but still are comfortable with as they are in so many pictures) and the ceremony flowers.
I always suggest using your bouquet with a trailing of greenery and a lot of candles on the head table or harvest table, even a back drop behind the newly wedded couple or something going over the table as it is in many of your photos.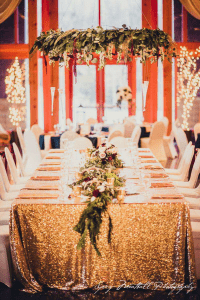 Place the bridesmaids bouquets on the reserved tables with a few candles around the base. With this option you've also decorated 4 tables or more.
Use the ceremony flowers on your dessert table, guest book table or next to the gift table.
If you then turn the rest of your budget into a few large statement pieces that everyone will oooooh and aaaah  over and use smaller arrangements or just candles on the remaining guest tables.
In most venues if you have some elevated arrangements (usually 4-8) all guests will appreciate the view and especially the head table because let's be honest once your guests are seated you're not going to see their table arrangements, but the elevated ones will show up and be seen by you and in the photos.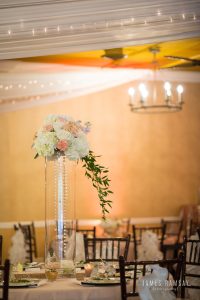 Another option would be having a large hanging installation of flowers and greenery over your dance floor, it can even be light up. Who wouldn't notice and remember that! And some photos under it would be awesome!
Maybe the venue has an amazing staircase, fireplace, archway, dock and boat or something architectural that drew you to this venue, why not add flowers to that so as everyone enters they cannot help but notice.
With so many beautiful venues in Minnesota and Wisconsin maybe the best way is to use your floral budget is make a WOW piece that everyone will remember and talk about even after your wedding.
Something to think about
laurie

      dream, design, create, inspire
* photos by James Ramsey Photography and Spicy-Meatball Photography