Welcome to Flore Inspired….. a little bit of history on me

Well today after much procrastinating I'm writing my first blog. I'll start out about by telling you a little bit about me and why I love designing with flowers.
I had my kids when I was young and stayed home with them for the first 15 years. When I got a job it was at our local flower shop in customer service and delivery, Shortly after I started I became the store manager but as I watched the designers working I thought wow this is what I'd really like to do. I spoke with the owner and she helped me take my first design course. I was soon designing everyday arrangements, managing the store and doing the merchandise displays. Soon after I started doing the wedding work and consulting with our couples about what they needed for their big day. I told my kids I finally knew what I wanted to be when I grew up. I was going to be a floral designer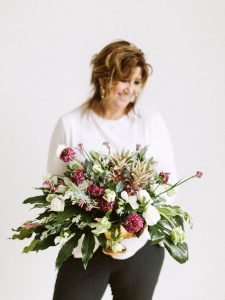 So, aftermany years as lead designer and store manager, I took the BIG step and went out on my own.
Here I am helping couples and others create and design their events with flowers.
Why? I believe that flowers enhance a room bringing joy and inspiration to guests, family and friends. Working with you we'll design a space that tells your story through flowers.
Over the next few weeks I plan on talking about how to design your event with flowers and greenery, budgeting for the floral part of your wedding, color and floral trends for 2018, and how I plan on blogging some of my favorite weddings and events with you.
   laurie

          dream, design, create, inspire
*photos by The Lemon Rose Photography